FOR YOUR PROFESSIONAL EVENTS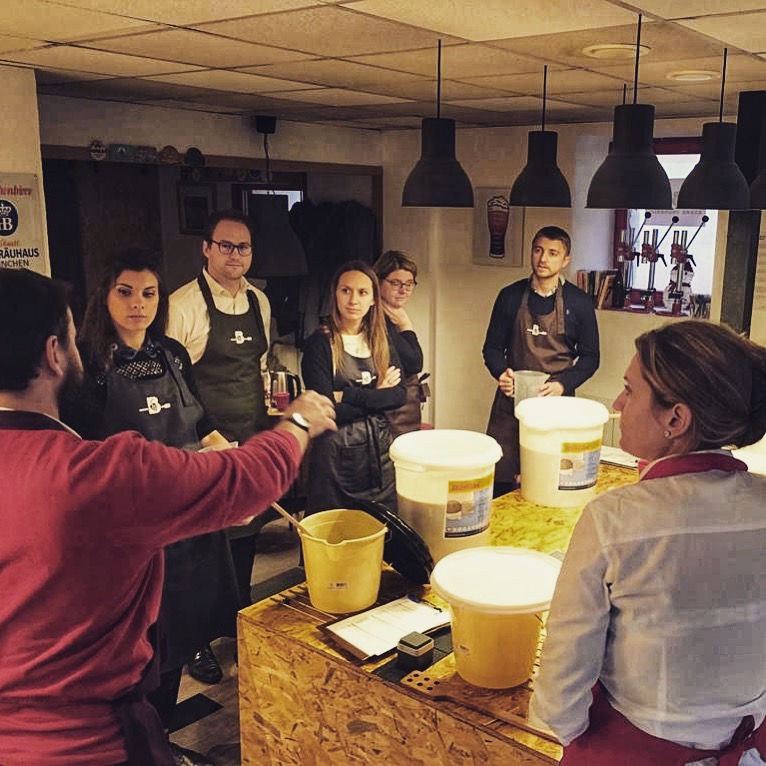 The Concept?
We will share our love of beer and home brewing in a relaxed atmosphere. During your workshop, you will choose your recipe, and carry out the different brewing steps. Four weeks later you'll leave with your own beer, made using professional equipment and quality ingredients. No special skills are required to participate in this workshop. Everything will be explained to you on the day by the expert brewer!
HOW IT BENEFITS YOUR EMPLOYEES
Brewing workshops in pairs
Strengthens cohesion
Improves decision making
Brings colleagues together in a different environment
Promotes communication
Reward your employees
Beer customization in pairs or in groups
Strengthens cohesion
Fosters creativity
Tasting of beers and tapas to share
Fosters a sense of conviviality among employees
Encourages interaction between employees outside the office
TAILOR-MADE EVENTS
In order to best meet all your needs, events are tailor-made according to your availability, the number of employees, and any other requirements. Biere Yourself offers
3 activities
adapted to your needs.
Brewing Workshop (2h)
2 Hours of brewing
Minimum 6 of people, maximum of 10 people
Organization: 2 people per brewing station
2h "Hoppy" Workshop

5 brewing stations (2 per station)
Production: 6 liters of beer per brewing station (12 bottles of 50cl)
3 recipes to choose from
Customization of the recipe and the label are possible

Beer tasting and snacks

To share during the brewing session
Cost included in the quote
Four weeks after the workshop, you can come and collect the beer you brewed. You can personalize the labels with your own beer names and company logo. The fermentation and bottling will be monitored by us. You can book several 2h sessions in order to accommodate larger teams and ensure that everyone has the chance to brew. Price: 65€ per person (tax incl.)
Brewing Workshop (4h)
4 Hours of brewing
Minimum of 6 people, maximum of 10 people
Organization: 2 people per brewing station
4h "Tout Grain" Workshop

5 brewing stations (2 per station)
Production: 12 liters of beer per brewing station (24 bottles of 50cl)
7 recipes to choose from
Customization of the recipe and the label are possible

Beer tasting and snacks
To share during the brewing session
Cost included in the quote
Four weeks after the workshop, you can come and collect the beer you brewed. You can personalize the labels with your own beer names and company logo. The fermentation and bottling will be monitored by us. You can book several 2h sessions in order to accommodate larger teams and ensure that everyone has the chance to brew. Price: 130€ per person (tax incl.)
Introduction to "Beerology" (2h)
Duration: 2 hours session
Number of people:  minimum of 6 people / maximum of 10 people
For corporate customers: choose from 3 events

"The Secrets of Beer Making" workshop:

Discover the history of beer, the raw ingredients used, the beer-making process, and the classification of different types of beer

"The Art of Beer Tasting" workshop:

An introduction to beer tasting, with sensory analysis of several beers using a tasting sheet

"Cheese and Beer Pairing" workshop:

Learn the essential principles of beer pairing, and delicious beer and cheese combinations
Price: 30€ per person (tax incl.)